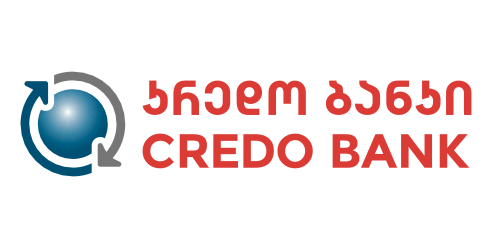 ჩაბარების ვადა:
31 მარტი 2023, 18:00
T16584 - Tender on the purchase of bank plastic cards
Tender Description:
JSC Credo Bank is a fast growing organization which successfully operates in 11 regions of Georgia and involves 84 service centres.
For your information Credo Bank announces the tender on the purchase of bank plastic cards and invites companies interested in taking part in the open competitive bid.
Purchase conditions:
Credo Bank makes planned purchases during the year in the amount of 6-month stocks on MasterCard and Visa cards. Card's specipication & detail requests please see in Annex Form #1
Necessary requirements:
The bidder guarantees the appropriate quality of the provided cards
The cards must have:
- Mag. Stripe

- HiCo
- Chip
- Contactless Chip
Core
- MasterCard - White PVC (Standard core)
- VISA – White PVC (Standard core)
Chip properties:
- Gemalto-Optelio Contactless R9 & R12
Or
- IDEMIA (Oberthur)- Cosmo Fly v.6 & Solvo Fly 4L
Detail technical features and designs can be found in Annex N3 ; Annex N6;
The cards shall meet the modern requirements of the international standard.
The company shall designate a contact person/manager to have contact with Credo Bank, who will take orders, answer phone calls/e-mails, provide information on the process of the service, and deliver the documents in time for the payment, etc.
Payment conditions:
Payment will be made on a contract basis within 3-5 working days after the delivery of the cards after each order.
The contract will be signed for a period of 1 year with fixed prices during the year.
Identifying the winner
Companies interested in taking part in the tender need to submit their proposals via electronic system www.Tenders.ge
The tender committee shall discuss via www.Tenders.ge all tender proposals submitted and shall identify a winner company, in view of the below given criteria:
Price
Delivery terms
Product quality/Company's experience in delivering the similar products and in relation to the service
Despite the results, all companies participating in the tender shall be informed on the results of the tender.
A provider shall upload in the system the following documents signed by an authorized person:
Brief information on the activities of the company (brief description of activities, experience, a list of partner companies in Georgia, a certificate/licenses, etc)
Completed and signed:
- Annex № 1-Proposal Form
- Annex № 2- Additional offer
- Annex № 4- The compliance with environmental and social matters
- Annex № 5 - Affidavit
The deadline for submittal of the tender proposal: 31 March, 2023, 18:00.
Tender Submission Terms:
Offers should be submitted on procurement web-page: www.tenders.ge
Submission Deadline is March 29, 2023,

18:00

local time;
Bid currency: GEL;
Auction type: Without auction;
Instructions to Apply for E-Tender can be found in the attached file.
Contact person:
Anri Goksadze
Head of Cards
Mail: agoksadze@credo.ge
M | (+995) 555001713
Giorgi Gogadze
Procurement officer
Mail: ggogadze@credo.ge
M | (+995) 591750872
ტენდერის კატეგორია:
79800000 ბეჭდვა და მასთან დაკავშირებული მომსახურებები

22300000 ღია ბარათები, მისალოცი ბარათები და სხვა ნაბეჭდი მასალა

22400000 მარკები, ჩეკების წიგნაკები, ბანკნოტები, აქციები, სარეკლამო მასალა, კატალოგები და სახელმძღვანელოები

30100000 საოფისე მანქანა-დანადგარები, აღჭურვილობა და საკანცელარიო ნივთები, კომპიუტერების, პრინტერებისა და ავეჯის გარდა